I know you guys
need more gaming
and we love to deliver!
FGCon is the flagship Online Role Playing Convention for Fantasy Grounds and the second biggest online convention running. But we can only run FGCon twice a year and we miss you all in between! So today we are launching FGDaze!
FGDaze is a one day event that will run every 2 months in between FG Con. That means we are adding 4 more events to your Gaming Calendars!
FGDaze1 will run on Saturday June 27th!
FGDaze will be organised and run entirely on the Forums and Calendar here.
How do I participate?
GMs
please post your games in the Game Calendar using the below as an example and keep these points in mind:
All games start on Saturday (whereever you are is ok!)

Our primary Aim is to provide more opportunity to new players to get a game and meet other gamers

Advertise your Game in the FGDaze1 Games thread initially and then advertise it far and wide

Your Campaign name must begin with [FGDaze]

Post your game in the Game Calendar and set and confirm the game time - dont leave it to a vote

Games will use Text Chat or the Community TeamSpeak Server

For those GMs comfortable with teaching new players - please encourage new players in your Calendar Post
GMs please note that Full License GMs will get bumped to Ultimate License GMs on FGDaze Weekends - thanks Smiteworks!
Players
Check the Game Thread often, subscribe to the thread to get regular updates.

Make sure your TimeZone is set in your profile

Sign up to a game or two

Invite your friends

Spread the word

Respect the GMs and your fellow players - if you cant make an event you signed up for cancel as early as possible

Have fun!
There will be more posts on this topic very soon.
Here is a sample Game Calendar post to use as a guide.
Let the Games Begin!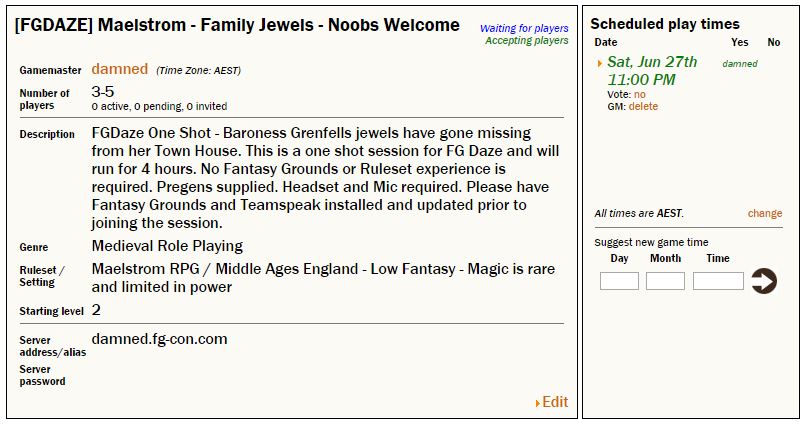 Link to official announcement